At Inspiration guitars we Tutor from the RGT Course books from Beginners to advanced levels, the books are easy to follow and offer grades to meet your musical ability.
RGT's Ukulele grade books are the 1st official accredited grade books for the Ukulele in the UK
John Allison at Inspiration Guitars is an experienced exam tutor with RGT " Registry of Guitar Tutors" where the grades are accredited by the London College Of Music and the University of West London.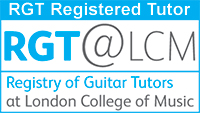 Please use the Student sign-up tab to register for lessons, where you will be issued with an account login to access our lesson schedule.