P.A.T. (Portable Appliance Testing)
For band equipment.
All Electrical Equipment with a main plug must be PAT tested to be used within the Inspiration Centre.
PAT per appliance £ 2.50
More than 10 items £ 2.00 each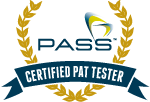 Any 2nd Had Electrical Items Sold with a Mains Electrical Plug on will be sold as Pat Tested.